Join Evolve today
As soon as your order is placed, you can instantly access your first videos and begin participating in the private online community. Your box with all of the painting materials will be shipped out that Friday.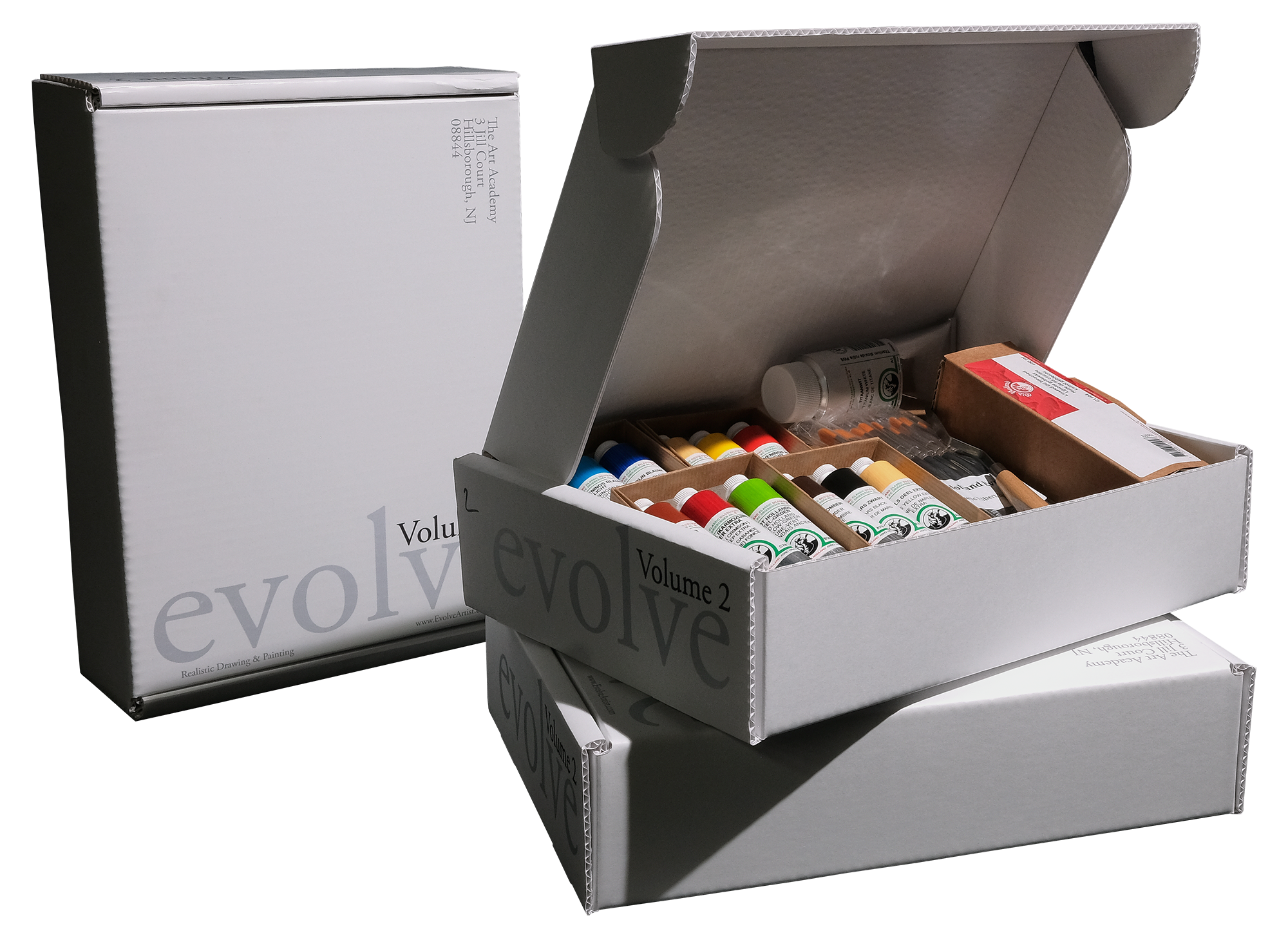 Foundation Blocks 1 – 4
Includes all materials (paint, canvas, brushes, reference, etc.), access to online instructional videos, 1-on-1 check-ins for homework assignments, and our private community of Evolve Artists. Free worldwide shipping.
OR

$2,500

one-time payment,
$2,988 value, save $488
Frequently Asked Questions
Student Experience
Do I need previous art experience to be successful in the Evolve program?

Evolve was designed with beginners in mind. As a result, no experience is necessary to make the incredible gains in the artistic skills you have seen on this site. A sizable percentage of students who have gone through the program came to us with no formal training at all.

Will realistic art training limit my creativity?

There is a common misconception that knowledge and skill will make an artist less capable of communicating their ideas—this could not be farther from reality. Mastering the tools of your craft is the foundation upon which all of your creativity will be brought to life. Evolve provides you with rock-solid foundations without any particular 'style', so that once you are trained, you will be free to take your work in any creative direction you desire.

Will Evolve help me develop confidence in my art?

Absolutely! Confidence comes from having a command over the knowledge and tools needed to consistently get quality results. Evolve will provide you with a reliable process to approach anything you want to create and empower you to deliver on those ideas time after time.

How does Evolve compare to a college education?

At only 1% of the cost of most serious Art Universities (Pratt, Rhode Island School of Design, School of the Art Institute of Chicago, and San Francisco Art Institute with an average four-year tuition of $200,000 USD), Evolve's foundation blocks deliver EVERY skill necessary to produce professional-level work, while easily outpacing and out delivering these schools on every front. Should you choose to pursue a college education after Evolve training, merit-based scholarship opportunities will offer a sizable return on your Evolve investment.

What if the program doesn't work for me?

We stand by the belief that the program is for everyone, and so we have a money-back guarantee.

To qualify for a refund, you must complete all of the exercises in Block 1. If we haven't delivered on the results you have been promised, email us at hello@evolveartist.com and request your refund.
The Program
Is it really possible to develop and grow as an artist through an online course?

Yes, but only if the course offers a true 'ground floor' entry point to begin the training, coupled with consistent support and guidance while students progress.

Is Evolve a subscription?

No. Evolve has a single fixed price for each phase (Foundation, Advanced) of its education. So regardless of how long it takes to move through the phase, the cost doesn't change. Evolve does offer a 12-month payment plan to help make the program more affordable to anyone serious about developing their skills.

How long does it take to complete the Evolve program?

Evolve has designed a calculator which can be located at the bottom of the What is Evolve page. Simply put in the number of hours you can commit each week, and it will show you how quickly you can move through the program. Evolve was designed to fit anyone's lifestyle, and the calculator will give you a good sense of when you will complete the program based on your schedule.

Why does Evolve start with professional-grade materials?

Although high-quality artist materials will not make you a better artist, poor materials can severely hinder your growth. With this in mind, Evolve sources only the finest materials for the program and is very proud to have a relationship with Old Holland which enables our students to work with—what is undeniably—the finest paint in the world. All of these artist materials are sent to you at no additional cost.

How does Evolve offer daily feedback to students?

Evolve offers several forms of feedback to its students so you never feel like you are going it alone. Written feedback is given multiple times a day, 365 days a year, on each assignment you submit. 1-on-1 video feedback is offered by scheduling a video call with an instructor during 'office hours', and group instruction and feedback are provided weekly via video conference. Evolve is more than just an education—It's a community, and you will find your peers will be helpful as well.

Will the program work on any device?

You'll need a computer or tablet to watch the course videos, a phone/digital camera for homework photos, and high-speed internet for watching videos, submitting homework, and receiving feedback.
Enrollment
How can I join?

Everything you need to enroll can be found at the bottom of this page.

When is the next class?

Your Evolve education begins whenever you enroll. Simply scroll down to place your order. As soon as your order is placed, you will be given access to your first videos and be invited to participate in the private online community.

Your Evolve box, with all of the materials, will be shipped out on Friday of the same week.

What makes Evolve different than online resources I can find for free?

Free resources are great; however, when you get stuck there is rarely anyone who can help you get past the challenges you are facing. Free content also lacks structure, and there is no way to know if the method you are following is appropriate for your skill level.

The Evolve program was designed from the ground up and has a proven track record of taking students with little or no experience and seeing their education through to creating professional-level work.
Results guarantee